Lombok Annual Events 
Before going to Lombok you may want to know some of the events that you will see in Lombok during your vacation, whether these events will be seen or not, to make sure your vacation gets some information. Here some events you will find in Lombok every year.
MANDALIKA MOTOGP & WSBK RACE
The Mandalika Circuit has a length of 4,310 meters and has a total of 17 turns consisting of 11 right turns and 6 left turns. The mainline is not too long, 507 meters. This circuit has the characteristics of fast corners, where the racers are able to maximize the speed of their motorbikes
Mandalika has the characteristics of many unique corners, suitable for racers to overtake each other, this year will held many race starting on march world superbike & on October MotoGP. Here with the schedule events at mandalika circuit Lombok.
Current event calendar 2023 Pertamina Mandalika international Street
March 03-05,2023: Superbike World Championship ( WSBK)
August: Asia Road Racing Championship
October 13-15,2023: Grand Prix motorcycle racing (MotoGP) &  Asia Talent Cup championship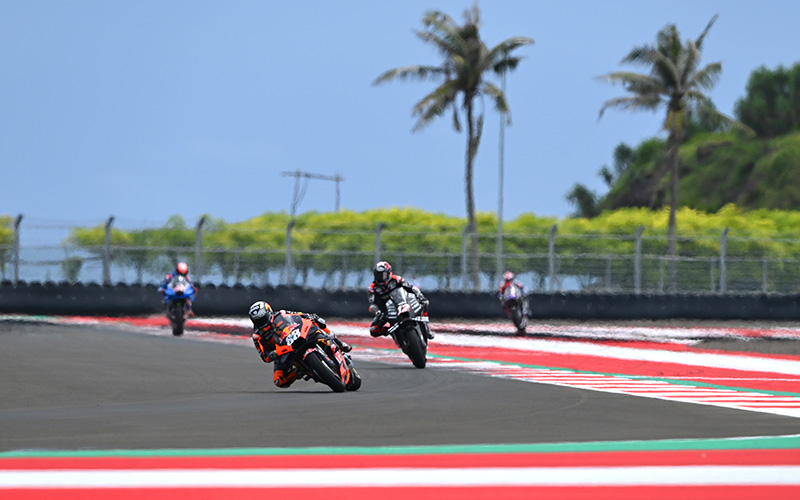 Peresean 
Peresean is a tradition of fighting between two men from the Sasak tribe in Lombok. They use a rattan stick like a sword, and a shield made of buffalo skin called ende.
Fighters are only allowed to attack the opponent's back and shoulders. As a companion, traditional musical instruments are played, such as gongs, drums and flutes. Injured pepadu will be treated with traditional medicine in the form of oil that does not cause pain when applied to the wound.
The Presean culture is already known from Lombok society for generations, originally a traditional ceremony of the happiness of soldiers in Lombok Kingdom when they get won in a war and a ritual ceremony to invoke the rain coming.
This event actually you can see on celebrating Independence Day on august.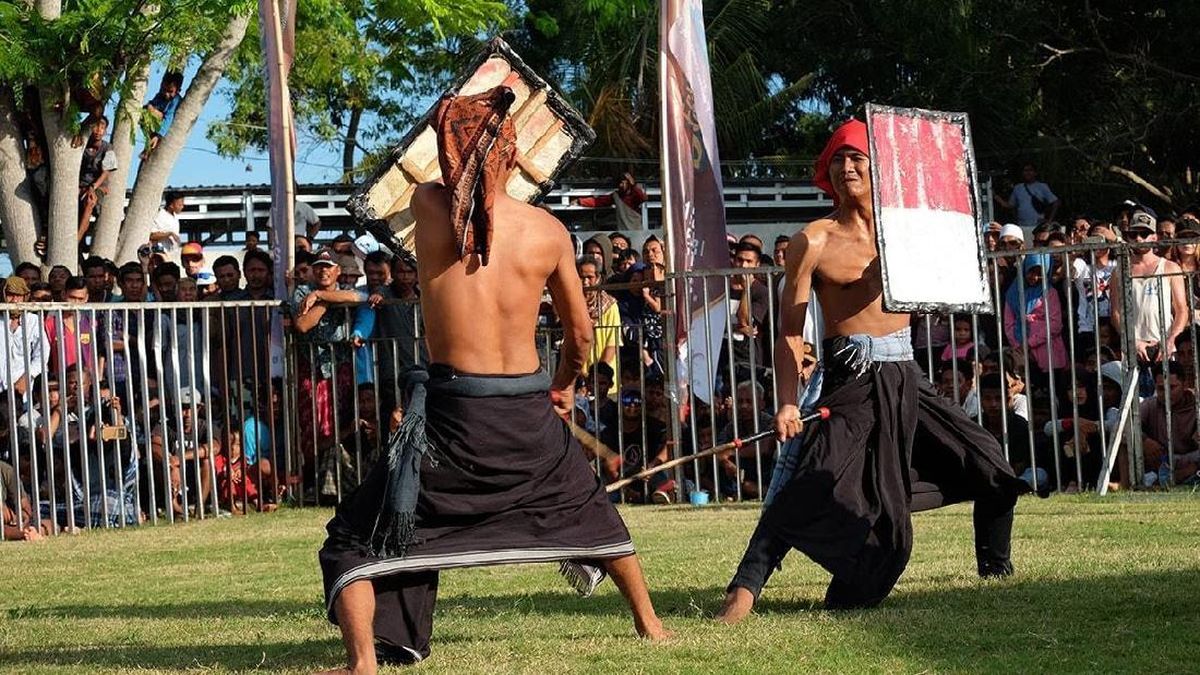 Bau Nyale 
The Bau Nyale Festival is a tradition of capturing sea worms, which are believed to be the incarnation of Princess Mandalika who jumped into the sea – to avoid the capture of her by many princes that want to marry her.
Bau Nyale (catching colorful sea worms) is the Lombok society culture that has been descended from generation to generation. This culture is closely related to the Princess Mandalika legend. Local people believe that "nyale" is the incarnation of Princess Mandalika who is willing to sacrifice herself for the peace of her people.
This tradition is motivated by a legend that is inherent in the hearts of Lombok people; which is about the story of a sacrifice from a beautiful princess named Mandalika. She really loves peace for all groups of people. She did not want to let down young nobles who put their hearts on her. The Princess Mandalika consciously chose to throw herself into the sea, which then due to natural magic turned into the "nyale".
Nyale itself is a type of sea worm, which is contested by all princes who could not marry Princess Mandalika. This year Nyale festival, will be celebrated on February 10 till 11, 2023.Location at Tanjung aan beach.
Parade Ogoh Ogoh 
Ogoh-ogoh Festival is statues built for the Ngrupuk parade, which takes place on the eve of Nyepi day in Lombok. Ogoh-ogoh normally have the form of mythological beings, mostly demons. As with many creative endeavors based on Hinduism, the creation of Ogoh-ogoh represents spiritual aims inspired by Hindu philosophy.
The main purpose of the making of Ogoh-ogoh is the purification of the natural environment of any spiritual pollutants emitted from the activities of living beings (especially humans). The forms of Ogoh-ogoh represent the Bhuta-Kala (Butha: eternal energy, Kala: eternal time)
The Ogoh-ogoh festival in Lombok this year will held on march 21,2023.the next day is quite day ( Nyepi)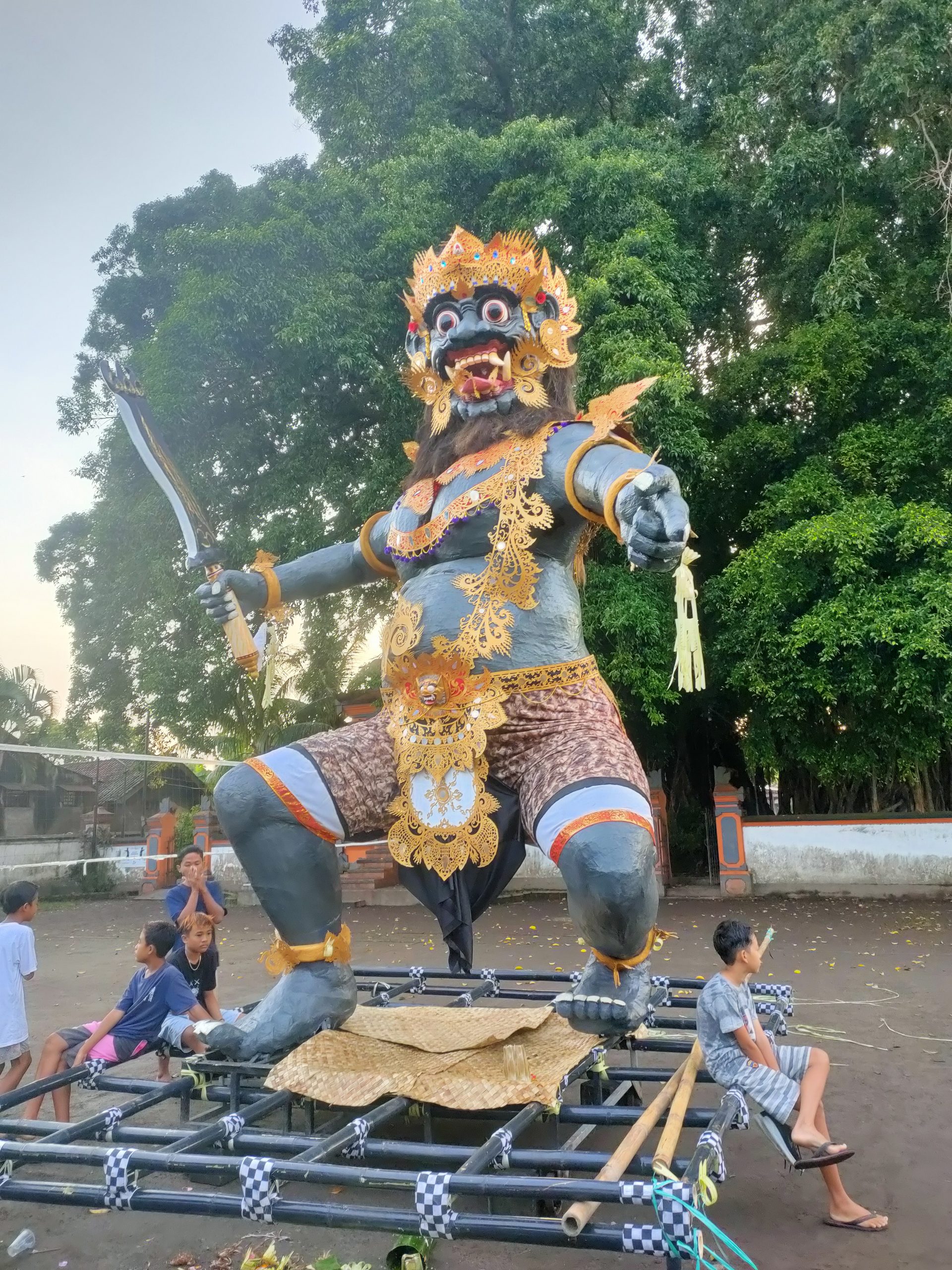 Male'an sampi
Male'an Sampi is a traditional cattle race conducted annually in Lombok. The race is open to the public. It takes place during the festival held following the harvest.,
Male'an Sampi literally means to run or chase after (male'an) a cow or cattle (sampi). The race is not run on traditional racing terrain but rather on a rice paddy, requiring the cattle to struggle for approximately 200 meters through several inches or more of water.
The animals are decorated by their respective owners to identify them during the race and add to the festive atmosphere.
Ceremony at mount rinjani ( Mulang Pekelem)
The beauty of Mount Rinjani, which is 3,726 meters above sea level in Lombok, West Nusa Tenggara, is not only about adventure.
Mount Rinjani, which is the third highest mountain in Indonesia, also has a ritual ceremony called Mulang Pekelem. A tradition of Hindus & Moslem on the island of Lombok which is carried out to maintain harmony between humans and nature.
They also perform various rituals along the trek. Mulang Pekelem is routinely held every fifth full moon every year, a ritual which is held in November every year. This ritual was initiated by group of hindu & moslem in Lombok.
Mulang Pekelem tradition departs from the Torean trek gate to Lake Segara Anak, the place that becomes the highlight of the Mulang Pekelem ceremony, take place at segara anak lake held every year around month of November full moon.
The concepts is making sacrifices so that nature is clean of evil forces, and humans can live in harmony. Participant carrying out processions or bringing offerings