Sharing Komodo Trip: 3 Days, 2 Nights, Start Trip, and Ending Labuan Bajo Harbor
Komodo Sharing 3 days and 2 nights start the trip in Labuhan Bajo and end in Labuhan Bajo as well. This special offer for travelers has a low budget. The package's all-inclusive meal is full board. from the start to the end of the program.
Komodo Island is one of the 17,508 islands that comprise Indonesia. The island is particularly notable as the habitat of the komodo, the largest lizard on Earth, which is named after the island. Komodo Island has a surface area of 390 square kilometers and a human population of over 2,000.
This program is available starting on Monday and Friday (two times a week).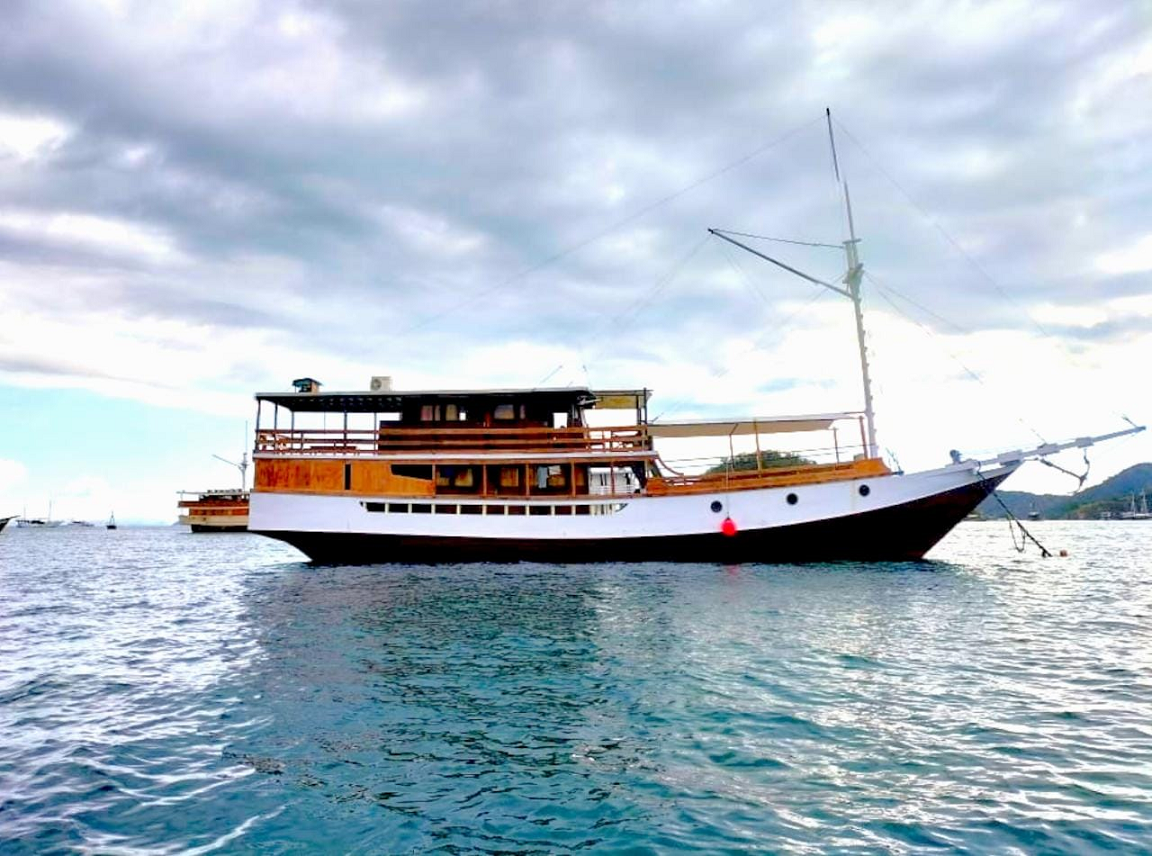 How to book Komodo Island 3-day sharing trips?
Email us: Departure date, hotel overnight at Labuan Bajo, choose type of Room(Private cabin room or sharing Cabin room)
Send us a copy of your passport, your full name, and your passport number (email or WhatsApp + 62 818365070, Komang Rastu).
Deposit: To book the trip, a deposit of 30% of the total amount is required via PayPal or our bank account, with the balance due upon arrival. PayPal account:

https://www.paypal.com/cgi-bin/webscr?cmd=_s-xclick&hosted_button_id=SG8ATGPZBTCFN

A payment confirmation will be sent after the deposit.

We are not responsible for any taxes charged by the bank during the money transfer process.

Please book the program in advance.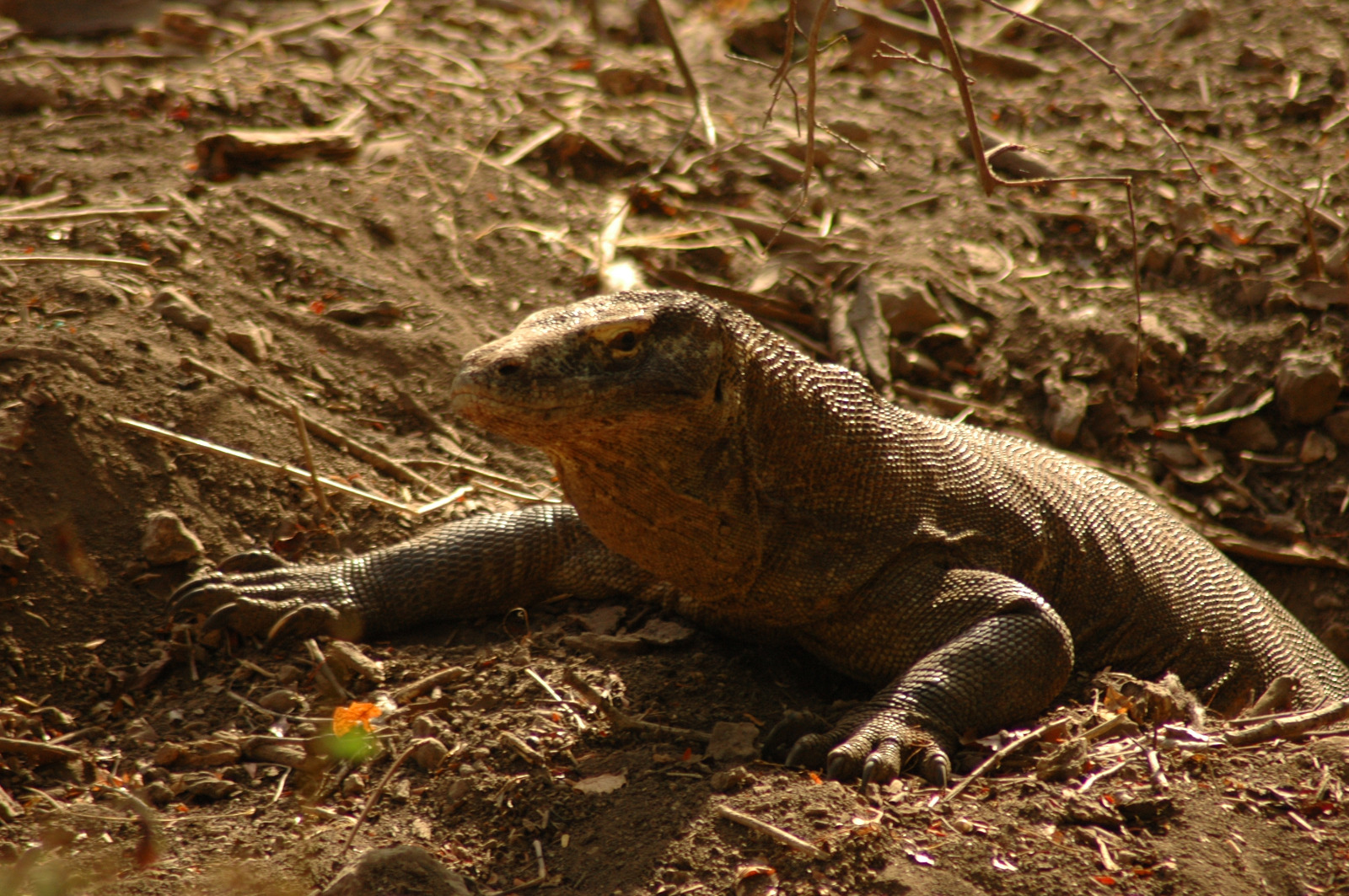 Important Note
Komodo package sharing will be arranged by a local travel agent in Labuhan Bajo, which means you will not travel with our company.
All sharing trip companies will work together; there are minimum and maximum participants to join the trip. When there are fewer participants on the boat, they will arrange to take another boat.
This program of trip komodo sharing is low-budget; you cannot demand better service on a private deluxe trip.
Please follow the schedule as the program is offered.
The itinerary can be changed if there is bad weather or a strong current without any notification in advance.
You can stay in Labuhan Bajo for one day before the trip and one day after your trip, or you can take an early morning flight from Bali to Labuhan Bajo, and at the end of the trip, take your last flight at 17.00 p.m. from Labuhan Bajo to Bali.
Schedule this trip three times a week (maximum passenger: 20 persons, minimum: 10 persons).
Private Cabin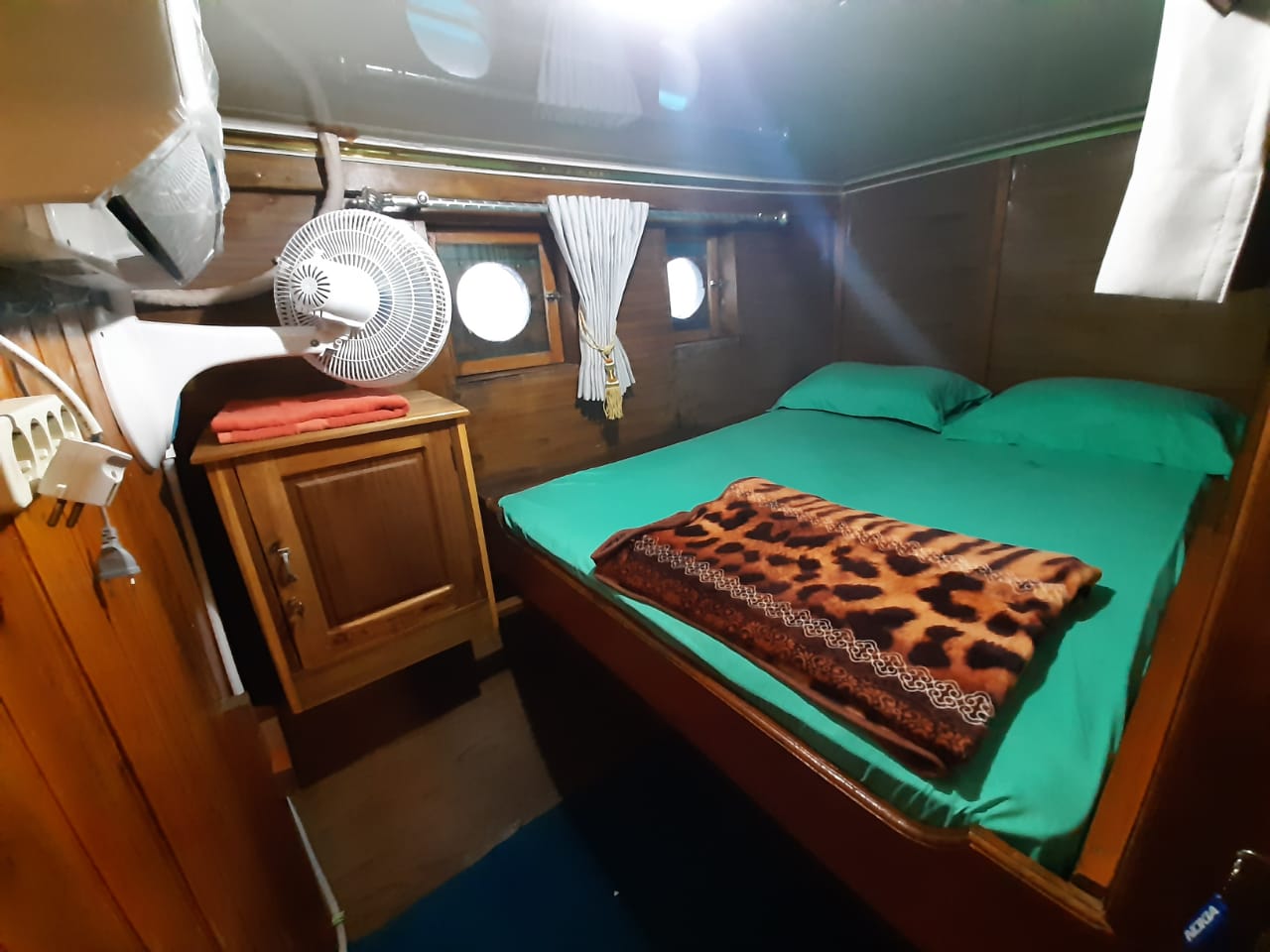 Itinerary Sharing Komodo 3 days 2 nights:

 
Day 01. Lunch and dinner on boat
09.00 – 10.00 Pick up at hotel or airport transfer to labuhan Bajo harbor
11.00-11.30. Boat sail to Kelor swimming and Hiking
12.00- 12.30. Boat sail to Menjerit Island for snorkeling and Lunch on boat
15.30 – 16.30. Sail to Pempe Island for relaxing & swimming
18.30 See Sunset in Pempe Island then sail to Kalong Island, continuing to Rinca bay. When there is good weather Boat sail to Padar Island. Overnight at Padar Island. Dinner on boat. 
D2. Breakfast, Lunch, and Dinner on Boat
06.00 Early morning hiking to Padar Island.
08.00. 08.45 breakfast then continue Boat Sail to Rinca Island,to see komodo animal
10.00-12.00. Boat sail to Komodo Island, Soft hiking see komodo dragon and then back to boat for Lunch
15.00-15.20. Boat sail to Pink beach. activities snorkeling & swimming on the beach.
17.00-17.20. Boat sail to Rinca bay. Boat overnight on the Rinca bay
D3. Breakfast and Lunch on Boat
07.00- 08.30. After breakfast, the boat sailed to Taka Makassar and Manta Point. Activities: relaxing and snorkeling
10.30 -11.00. Boats sail to Siaba Island for snorkeling.
12.00–14.00 Lunch, then boat sail to Kanawa Island for snorkeling and relaxing
14.00–15.00. Boats sail back to Labuan Bajo Harbor.
15.00. Transfer to the hotel or airport, end the program
Sharing Cabin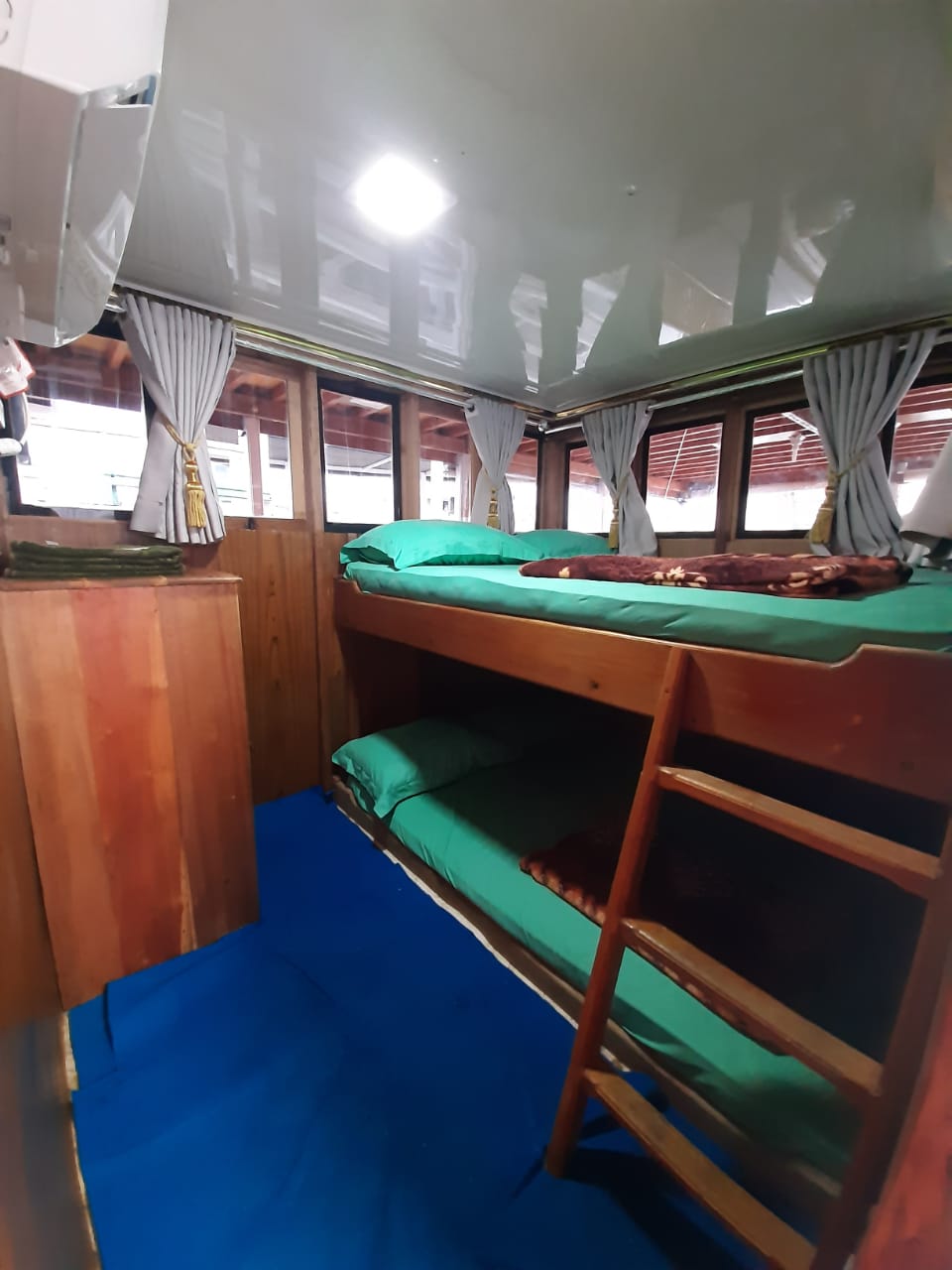 Our Price, IDR or USD Per Person:
Private Cabin Room: IDR 4.000.000 per person or USD 276 with air conditioning
Sharing Cabin Room: IDR 3.500.000 per person or USD 242 with air conditioning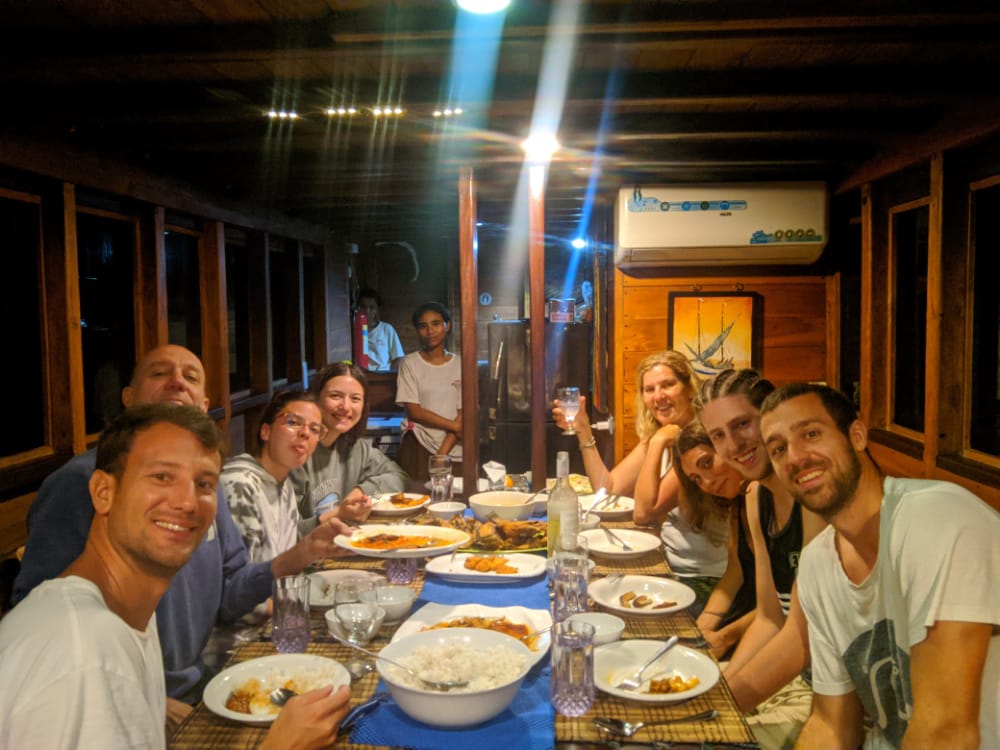 Price inclusive:
Transfer from hotel to Harbor Labuhan Bajo to hotel back
Boats for a group (deck cabin room or private cabin room) depend on your choice.
Lunch and dinner on the boat
Mineral water, coffee, and tea on the boat
Price exclusive:
Flight ticket to Labuhan Bajo and flight ticket to the next destination
Accommodation before and after the trip (optional)
Entrance fee to National Park Komodo:

IDR 500.000 per person

, pay yourself.
Entrance ticket for Padar Island, Kalong Island, and Manjerite Beach
Snorkeling gear:

IDR 20.000 per person per day.

Cost for a Ranger on Komodo Island and Rinca Island
Meal at the hotel Labuhan Bajo or a local restaurant
Snorkeling equipment (mask, fin, life jacket)
Soft drink, mini bar, laundry
Tip for crew and personal expenses.
Things to bring on the trip:
Towel
sunglasses
sun cream
camera,
swimsuit
changing t-shirt,
some cash for personal needs, and a tip
Additional information you should know:
The schedule can change at any time. It is dangerous to sail to Komodo Island, especially if the weather is bad. Always trust the captain of the ship, and don't risk your life.
The ship can be replaced at any time when the condition of the ship's engine is not good for sailing. Safety is the priority.
We are a travel agent and not a tour organizer for this trip. For any feedback and complaints, we recommend that you send them to the tour organizer.
All related services while on board are the tour organizer's responsibility.
Cancellation policy:
There is no charge for cancellations made 7 days or more before the arrival date for individual bookings and 15 days or more for groups.
50% will be charged for any cancellation less than 5 days before the arrival date.
Less than 48 hours' notice and voluntary no-shows will be charged in full for the total booking.
Contact US FOR bookings OR information