Full-Day Waterfall Excursion Cruise Lombok
Lombok Waterfall Excursion Cruise For those who are cruise ship passengers, you will discover two different beautiful waterfalls on Lombok Island, located on the foot of Rinjani Mountain. The duration of the trip is 7–8 hours. You will get different views of nature's waterfalls, view rice terrace fields on the journey, and visit the central weaving village of Sukarara on the way back.
Benang Kelambu waterfall, Lombok, is located about 30 minutes walk from Benang Stokel waterfall, Lombok. It will take extra energy because it's rather like a trekking trail, up and down, and more adventurous. The trail is surrounded by social forest mixed with rain forest. It's also a newly opened trail with managed access to this Benang Kelambu waterfall. And the visitors are countable.
The waterfall is very unique. The waterfall looks like a big net that is spread out; that's why it's called Benang Kelambu in the local language, Sasak. It's about 40 meters high and graded irregularly. The denseness of herbs makes it seem more natural.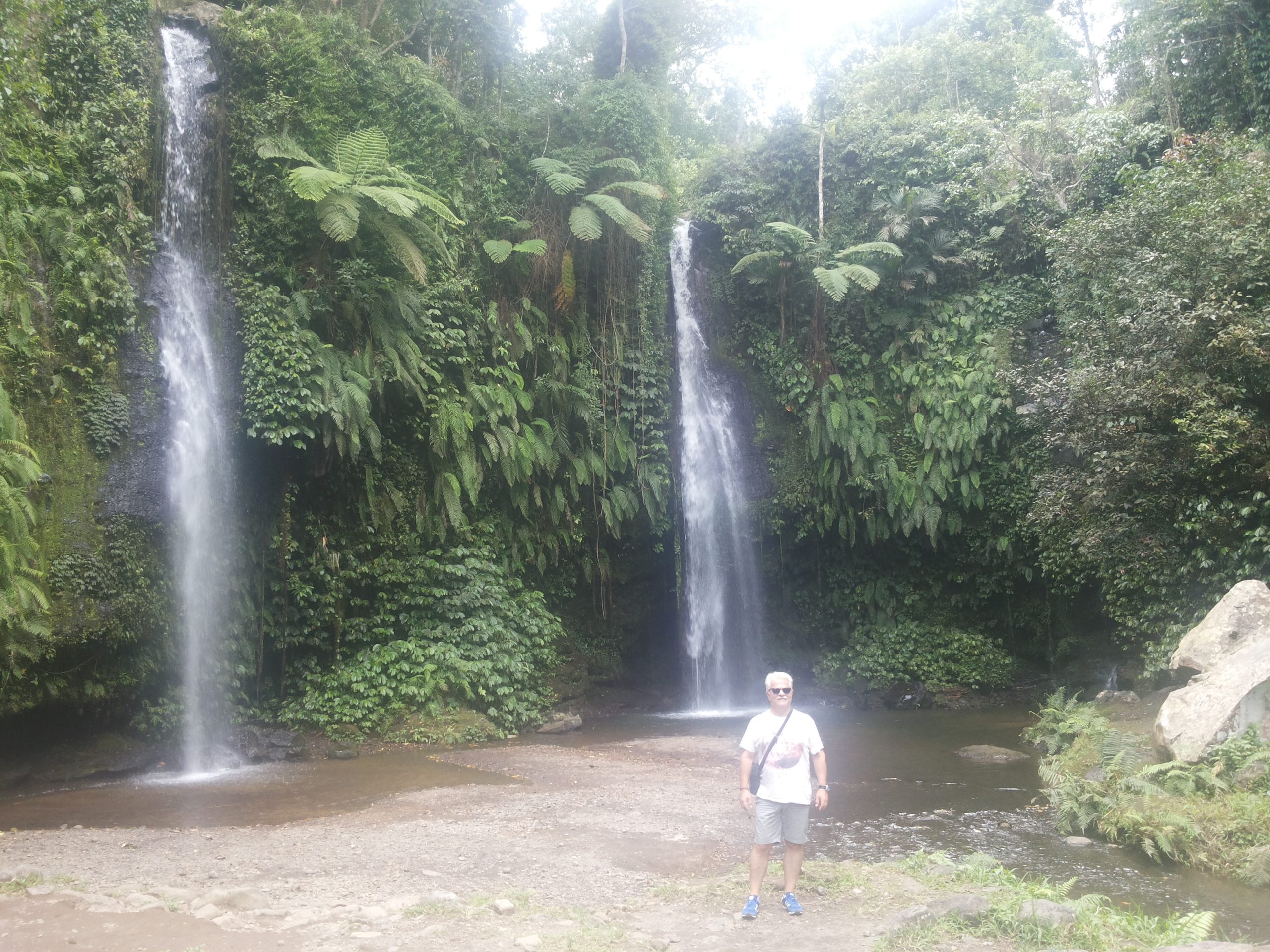 Waterfall Benang Stokel and Benang Kelambu Overview:
Rice terrace field: Lombok rice is famous for its beauty and natural landscape and is used by the local people of Lombok to grow rice during the rainy season and other varieties of plantations during the summer, such as corn, peanuts, watermelon, etc.
Benang Stokel: The natural beauty of the waterfall is that clean and fresh water flows from the river upstream on Mount Rinjani, with a height of 20 meters.
Benang Kelambu: Freshwater And cool water flows from the mountain through the plants, framing the flowing water so it looks like a curtain.
Sukarara Village is a central weaving village in middle Lombok, especially in sarong, songket, and shawls.
Itinerary Waterfall Benang Stokel and Benang Kelambu Excursion:
Start at 8 a.m., our guide will Paging your name as your reservation and drive direct to waterfalls Benang Stokel and Benang Kelambu. You will drive passing the middle part of Lombok Praya.
Take a drive of around 2 hours from Lembar Harbor to the waterfall, where you will do soft hiking. During the walk to the waterfall, Benang Stokel does not allow you to bring food on your hand due to the many monkeys in their location.
Walk to the first waterfall, Benang Stokel, from the gate for around 20 minutes, then continue to the second waterfall, Benang Kelambu, for around 30 minutes. activities: take a bath or take some pictures; afternoon, back to the gate, passing some gardens with a coffee plantation, chocolate, coconut, banana, etc.
Before returning to the harbor, take a rest at the local restaurant for lunch, and on the way to the harbor, visit Sukarara village, a central weaving village. You may try how to weave a sarong or shawl from spinning yarn until ready to weave. There, you will get a local guide to escort you into the village and explain, then drive back to Harbor. End Program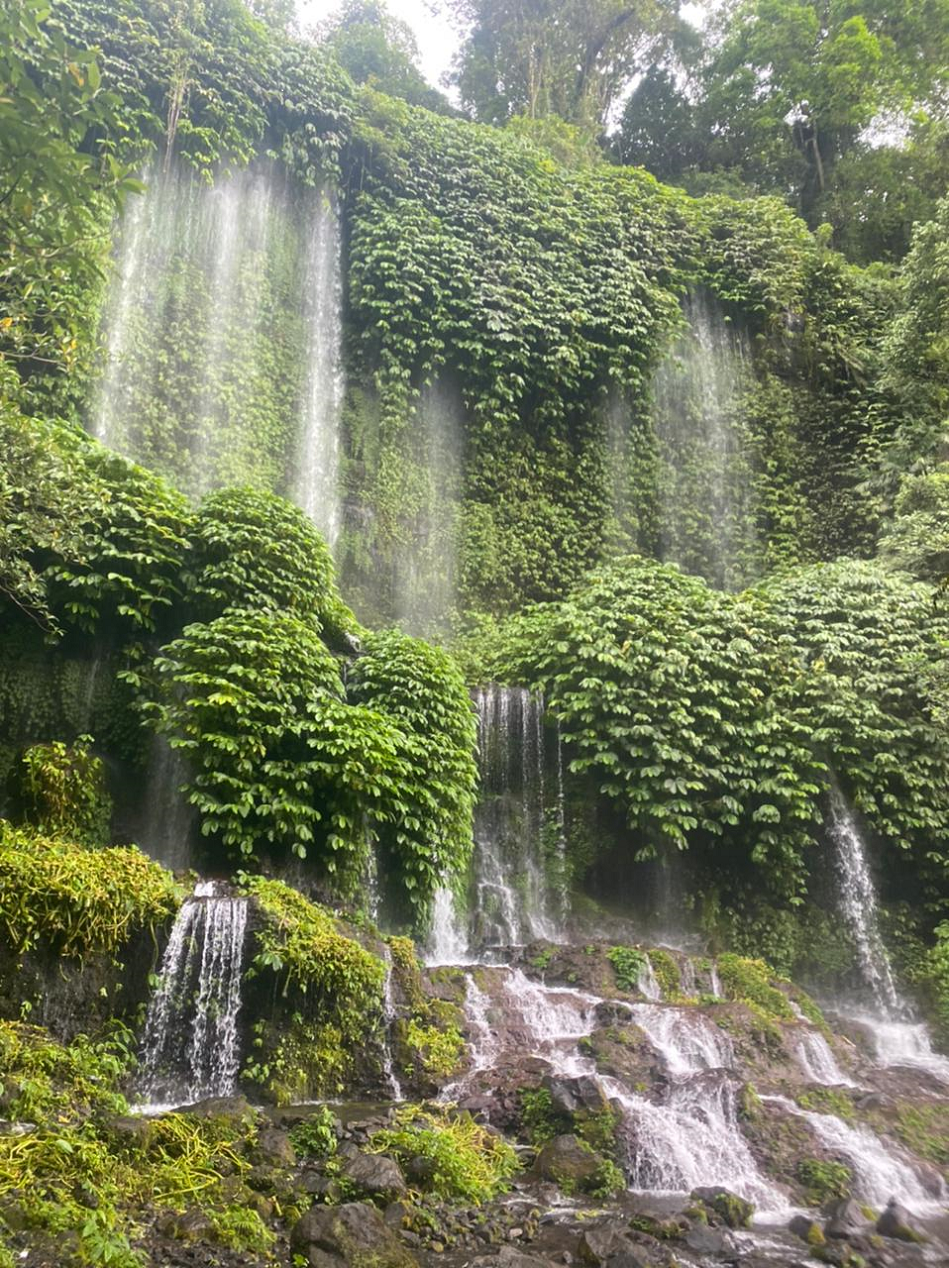 Our Price: US$ per person
US$ 85 per person; minimum 2 persons to book this tour.
US$75 per person, minimum of 3-4 persons to book this tour
US$ 60 per person, minimum, and up to 5 persons to book this tour
Term of Payment:
Payment in advance 30% as the deposit of your reservation via PayPal online payment
The balance to be settle with cash on arrival
PayPal account: 

https://www.paypal.com/cgi-bin/webscr?cmd=_s-xclick&hosted_button_id=SG8ATGPZBTCFN

We are not responsible for any taxes charge by the bank during the money transfer process.
Cancellation policy:
Full refund for cancellation noticed 15 days before arrival
Cancellation within 7 days of the trip is charged 50% of the package price
Last minute cancellation (one day or on the day of the trip) is full payment charge
Price Inclusive:
Private Car with air condition
Experience English speaking guide
Entrance fee
Local Guide
Mineral water & soft drink
Tax and service
Price Exclusive:
Lunch
Tipping Guide and Driver
Things to Bring  on tour:
Towel
sun glasses
sun cream
camera
swimsuit
slippers
changing T-shirt
some cash for personal needs and tips
Important Notes:
Minimum participant 2 persons
This tour program is suitable for all age
Children under 5 years 50% off
Children 5 years old up full payment
Additional lunch fee if needed IDR 100.000 per person
Confirmed reservation at least one day before by email or What's App.
Additional information about this tour
This tour you can do anytime when you visit lombok island by cruise ship, Regarding the weather conditions on the island of Lombok is not always extreme as on other islands in Indonesia, October to March is the rainy season, but rainfall is not evenly distributed throughout the island of Lombok, maximum rain 2-3 hours per day, the apparatus is around 20-27 degrees Celsius, all plants will look green, while in May to September the summer season, temperature around 20-32 degrees Celsius, the peak of summer on the island of Lombok only in August to September temperature around 30-35 degrees Celsius, and the season is crowded with tourists visiting the island of Lombok, there are some barren plants, waterfalls benang stokel and benang kelambu never recede water throughout the year.
How to book this tour:
Fill out the reservation form in the section below or contact us via What's App. +62 822 3530 5550
We will proceed with your booking and send you the online invoice by email or What's App.
As soon as you receive the invoice, please complete the payment. For more details, please see the payment method section.
As soon as your reservation is confirmed, we will send the voucher to your email or What's App.
Show your voucher (e-voucher or printed version) at the location. Happy Travel
Contact US FOR bookings OR information