Mount Rinjani is second highest volcano in Indonesia, located on Lombok island, part of Nusa Tenggara Barat Province. It is an active volcano, rises to 3,726 meters (12,224 ft), becomes one of the over 40 National Parks throughout Indonesia since 1997 with name Taman National Gunung Rinjani (TNGR).Mount Rinjani caldera formed oval-shaped 6 km by 8.5 km, filled partially by the crater lake known as Danau Segara Anak.
The lake altitude on 2000 meters above sea level with some point estimated around 200 meters deep, the caldera also contains hot springs. In the lake can be found several species of fish and the endemic duck called Belibis.
The eruptive history of Rinjani prior to 1847 is not available as the island of Lombok is in a location that remained very remote to the record keeping of the era. First historical eruption occurred in September 1847 have been restricted to Barujari cone and the Rombongan dome (in 1944) and consist of moderate explosive activity and occasional lava flows that have entered
Segara Anak lake. The most significant eruptions occurred during a spate of activity from 1994 to 1995 which was resulted in the further development of Gunung Barujari. (Mt.Baru 2363). The latest eruption occurred since April 2009 and October 2015 ashes flew till in java around Banyuwangi,
In that time Three airport were closed during mount baru jari eruption Airport Lombok, Airport Bali and Airport banyuwangi ,the park was closed due to high activity of the volcanic and subsequently reopened when the activity decreased however it's still not allowed to come close near Gunung Barujari (Mt. Baru) because the volcano still erupting ashes regularly and strong smell of sulfur. The trekkers now able to visit Senaru Crater Rim, Segara Anak Lake, Hot spring, Mount Rinjani Summit and Sembalun crater Rim.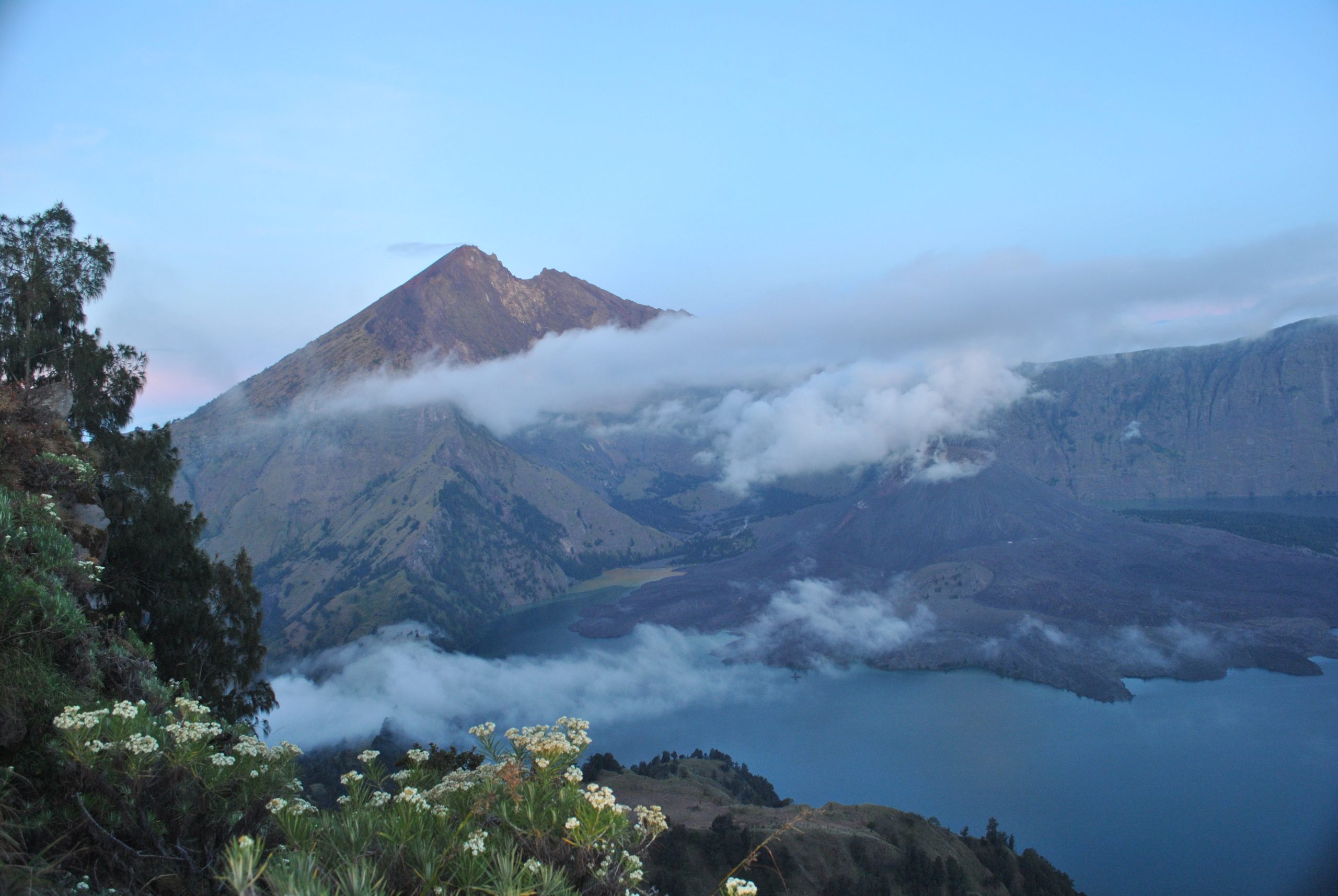 What You Should Know about mount rinjani
Mount Rinjani trek is a challenging mountain hike, and you must come prepared with good equipment, and clothing that's both warm and windproof. At times, Mount Rinjani is known for attracting severe storms, lightning and strong winds due to its unique geography. When the weather is more settled, the sun can be intense, while the nights are often quite cool. Parts of the trail can be steep and slippery.
When trekking, we'll make sure to be careful around bad weather, and ensure we don't take any unnecessary risks in regards to exposure to the wet and cold. If caught in a lightning storm, we will immediately take shelter and avoid prominent and high-altitude ridges. In addition, we'll make sure to watch out for stinging insects and plants, which are numerous on Lombok. Lastly, leeches can be a nuisance in the wet season, so during this time of year we will need to take special precautions. Despite the risks (which are common on any mountain hike), trekking in Lombok is a unique and special experience, and we want to make it as fun as possible for you and your group.
Volcanic Hazards:
Although Mt.Rinjani has not erupted in recorded history, Mt. Baru (2,351m) in the crater lake remains an active volcano. It last had a dramatic eruption in 1994, but has remained dormant until now. When hiking, please check the notice boards for recent hazards, and take advice from park staff, and most importantly, our guides.
Fresh water springs are a feature of the trek, and our campsites will be located nearby. Your guides will know where these are. During the drier months (July through September), some springs temporarily disappear. Park staff and guides constantly monitor these water sources to determine their abundance and availability for hikers.
Ticket Mount Rinjani:
Ticket will be paid at the Rinjani Trekking Center at Rp. 150,000 (15$) per person, per entry. These fees directly contribute to the protection, maintenance and management of our national park, the Rinjani trekking route, various village attractions, and visitor facilities
Our Guides and Porters:
We hire professional mountain guides and porters from the local villages in Rinjani National Park who have passed our rigorous guiding and handling tests, and hold a valid guide license.
About Our Trek Team:
Our trekking team is owned and operated by a team of young, energetic people who are passionate about keeping our environment intact, while sharing the natural and cultural wonders of all the places we visit.
Our Philosophy:
We deal largely in ecotourism & adventure travel, but for us, adventures are not just the rugged kind. An adventure can take many forms, and doesn't always need to involve overly strenuous hiking – to us, every trip is a voyage of discovery and by extension, an adventure. The guiding philosophy behind each of our trips is a mindset of being both environmentally friendly and sustainable. This means leaving a positive impact on the peoples and places we visit, and always respecting the distinctiveness and special qualities of each place we travel to here on Lombok (and beyond).
Some our goals to trek mount Rinjani with us are:
learn from nature & other cultures
minimize our negative impact on the natural and cultural environments
giveback to the local community
facilitate self-determination for native peoples
promote tourism industry
have a fun
The way we run our treks will always be environmentally-friendly, as well as economically and physically efficient. This means we trek, cook, camp and show you more of the things in an attentive and thoughtful way.We use mechanized transport when we have to cover long distances in limited time, but even so, we use local transport as much as possible to maximize exposure to the local lifestyles, and to get close to the local people. As a result, during the trek, there will be many opportunities to learn about and from the indigenous peoples & environment mount Rinjani
Monitoring Rinjani National Park Location at Sembalun
Mount Rinjani Observation Post Rinjani Sembalun is located in the village of Lawang, Sub Sembalun 2.5 km (4000 feet) northeast of G. Rinjani) in the Regency of East Lombok. Observers at this post monitor G.Rinjani, G.Barujari/G.Tenga within the Segara Anak Caldera.
Telephone Communication:
Cell coverage is plentiful in most areas of Rinjani National Park. In addition, most of our guides will be carrying their own mobile phone. Not all cellular operators can be used and as a result XL, Mentari & Simpati is our recommended network & can get signal in the Mount Rinjani area.
Villages Around Mount Rinjani 
Sembalun Village
Sembalun Village sits in a valley and at the base of the Mount Rinjani. The village is three hours by car from Mataram, making a very scenic drive. The drive, however, can be a little bit challenging due to the steep climb.
On your journey to reach the village, you will pass by lush green rice fields and tropical gardens. The fertile soil from the volcano helps agriculture thrive, which is the lifeblood of the community. Here you will find cabbage, carrots, chilli, rice and onions growing, with farmers playing a vital role in the village. Spices are also in abundance here and on your visit; you will have the chance to experience harvesting them on a traditional farm.
The local Sasak people share their culture and traditions through art and food. Amongst the people, there are eight different dialects across the island.
Traditional housing still stands where the first families in the village lived. Made up of mud-brick, the historical value of these homes within the community is very high, and to this day, the houses are still in use.
Music also plays an essential role in the Sasak culture. Some of the popular instruments used include flutes, traditional Indonesian instruments like the Gamelan, and percussive instruments. Learning to play the Gamelan is a skill passed down through the family.
A visit to Sembalun Village is a chance to learn about daily life as a local. Whether you join in on the local communities harvesting, explore the original homes still standing or listen to the music of the local people, a visit will bring you further insight around Lombok's cultural identity.
Senaru Village
Senaru Village is becomes a prime check point before performing trekking to the mountain. Aside from that, it also offers unique traditions to tourists including traditional houses, local culture, a serene atmosphere, etc.
Not to mention visitors get the opportunity to approach the villagers and learn a little bit of their language. Where is the exact location of the village, it belongs to Bayan Sub-District and it is the part of North Lombok Regency. senaru village the location is quite near to Rinjani Mountain.
Most of the visitors are those who want to get to Rinjani Mountain by trekking. It is because Senaru Village becomes one of the gates to enjoy such activity. However, the others who do not like trekking choose to explore the village and learn some culture there. The most interesting feature of the village is perhaps the presence of Karang Bajo (traditional houses). The floor is made of clay and the walls are made of thin woods. Also, the roof is made of "Rumbia". These unique houses are definitely worth a photo shoot!
The next thing to do in Senaru Village is to enjoy soothing nuance of the local farms and lush trees. There is even a small forest located near to this settlement where tourists can explore as well. If it sounds tiring, tourists can simply relax in the village and chat with villagers casually. Some of them even can speak foreign languages fluently, so tourists would feel comfortable when speaking to them. As an alternative, they can hire a local guide to smoothen such communication.
Before going home, it is better to try local foods and visit nearby natural attractions like waterfalls, a local mosque, etc. Have no worries. It is easy to explore and enjoy those attractions as long as tourists come with a professional guide. They can even find homestays and nearby facilities to enjoy a better holiday in Senaru Village.
Mount Rinjani Trekking Route:
There are three trek route such as Sembalun Lawang on the eastern side, Senaru on the northern side and Torean trekking route on the middle side of the mountain.
Senaru Trek Route
This is by far the most used route as it allows the (relatively) less strenuous trek to the crater rim only. You start at an elevation of 600 m in Senaru village, normally in the late morning or early afternoon and make the 6 hour ascent to the crater rim before dark.
First part of the trek is through tropical rain forest. Look and listen out for the Lutung, or black monkey, swinging through the trees in the late morning. They are extremely shy, unlike for the common macaques which may gather near rest stops waiting for scraps.
The route passes through POSII at 1,500 m, breaches the tree line at 2,000 m (POSIII) and then it is a bit of slog up gravel paths to the camp site just below the crater rim at 2,600 m.
Torean Trek Route
New trekking route from Torean village 40 minutes from Senaru village West Lombok. Torean trekking route really famous for trekkers who want to direct to The lake in the same days.
The trails flatter then Senaru or from Sembalun route, but the trekking route is more longer then another trekking route. Its take about 9 hours walking in total, from starting point to the lake camping area. The trail is nice and fantastic.
Sembalun Trek route
Starting in the morning from the Rinjani Trek Centre in the village, the climb to Plawangan II at 2,638 m will take about 8 hr via POSI (1,300 m), POSII (1,500 m) and POSIII (1,800 m).
Starting altitude is1100 m, so there are no humid conditions to deal with. First half or more of the trek is literally a breeze.
The trek through savannah grassland is windy and easygoing, with gentle ups and downs, and the only obstacle to look out for are the "cow pats" deposited by the villagers' cows along the way.