Lombok Island West Nusa Tenggara
Lombok an island east of Bali, but less famous than its neighbor. While every year millions of tourists are attracted to Lombok Island, many places on Lombok are still untouched. Over here some tourism is still unknown. To reach Lombok island just take 20 minutes, speed boat 2 hours or take ferry  slow ferry 4 hours from Bali Island, Lombok offers many empty and often isolated dream beaches, friendly people and interesting place to explore, tasty food and fantastic nature. here some favorites destination are Lombok Island.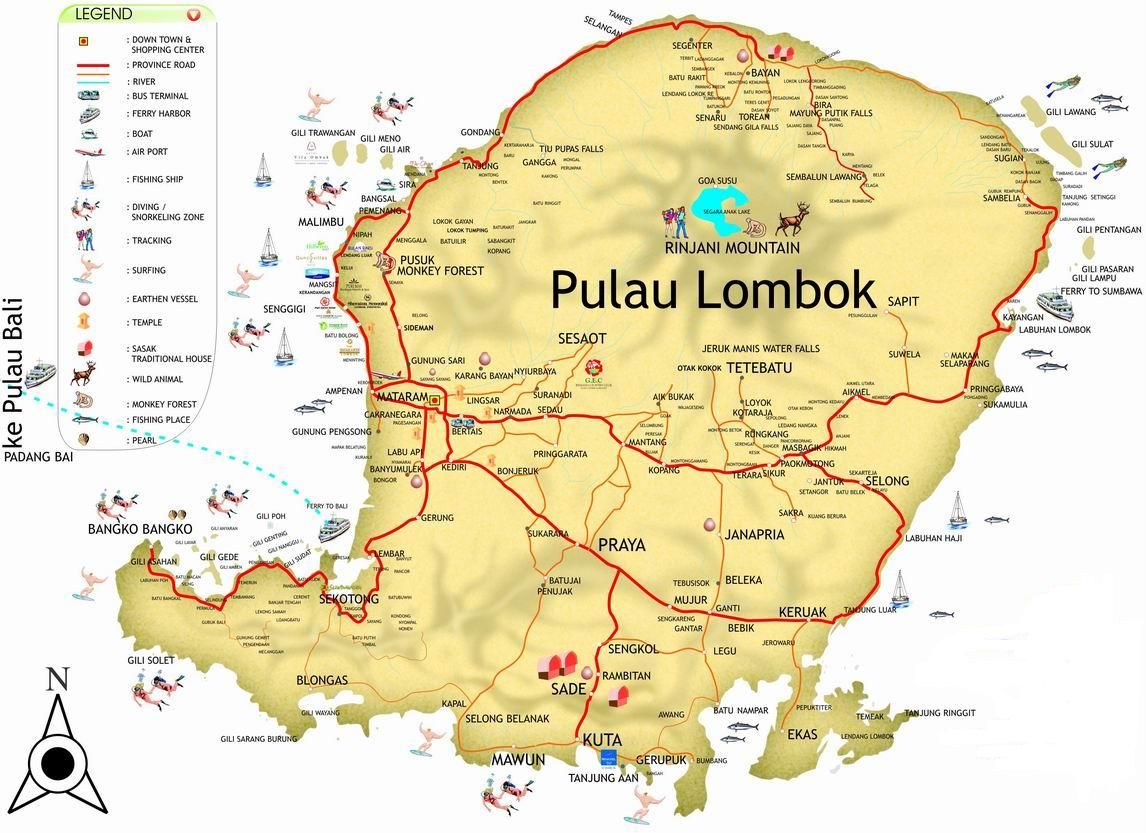 Interesting Places in Lombok
Gili islands in north part of lombok

3 paradise islands in nort part of lombok, which seem tiny compared to Lombok are located only 30 minutes away by boat (sampan) or 10 minutes by speed boat : Gili Trawangan, Gili Meno and Gili Air located north Lombok. take speed boat from Teluk nare or take public boat from Bangsal,
The Gilis are very popular for scuba diving and snorkeling but also for relaxing, swimming Tourists visit especially Gili Trawangan often Gili trawangan on high season very crowd, especially July august, ending ramadhan or new year.
Mount Rinjani Lombok
The second highest volcano of Indonesia 3726 m above sea level.many tourist from all over the world coming for trek, Mount rinjani view spectacular, is definitely one of the highlights of Lombok. You can book  multi day, Guide tour to the Crater Lake and even to the top at all touristy spots. trek mount rinjani open from april to december (dry season.January- march closed rain season.
Pergasingan Hill Sembalun
The best scenery that tourists can enjoy in Pergasingan Hill is definitely the Rinjani Mountain itself. As for the location, it resides on 1700 meters above the sea level so the nuance is a little bit cold up there. Not to mention some tents and campers are also seen on the site, especially during weekends. At the entrance of the site, tourists might see a welcome sign as well. It is because the hill has a good popularity and has been visited by lots of nature lovers over time.Take drive 3 hours from senggigi.

Senggigi Beach

Most tourists arrive in Senggigi because many hotel are located over here. It's also great for going out at night or eating. senggigi offered many activities on the beach, One of the most popular sport in senggigi is surf. they do in Senggigi Beach.& pandanan. a long street offered many restaurant  for lunch & dinner. be careful many vendor offered many thing with cheap offered, you should speak and bargain the thing & do not make promise with vendor, they will remember your face & will look you for in hotel where you are overnight to buy the thing.
Gili Nanggu
The beaches are quiet and there are no beach vendors to bother you since this is a private island. It's perfect for a snorkeling, diving or relaxing day trip. If you wanna take a time out and enjoy a few days relaxing among a tranquil South Sea atmosphere, this island is the right spot for you. on Gili Nanggu there is only one accommodation (Gili Nanggu Cottages & Resort with bungalows directly at the beach) and one restaurant.
Gili kedis
Gili Kedis is the tiniest island! It is probably not bigger than the size of a tennis court, and has the shape of a heart. You won't find anything on the island, except from some trees in the middle. There are not so many fish around, but it is worth trying.
Gili Sudak
The island is a bit smaller than Gili Nanggu and known as the 'lunch island'. You will find a couple of warung where you can order all kind of local food  like 'Gado Gado' Nasi Goreng or local fish'.
Pusuk Pass (monkey forest)
Mountain landscape, second option the way to bangsal harbor, there you find monkey, feed the hungry and annoying little bastards at the view point if you like it. but be careful and look for your bags, backpacks & such things you carry, do not show monkey.
Tetebatu
Small village is about 2km from the southern boundary of Mount Rinjani National Park. It is a quaint and scenic rural area some 700 meters above sea level, and gives visitors the chance to experience real, traditional village life in Lombok.
Tetebatu area is perhaps best known for its cultural attractions. Traditional Sasak handicraft artisans are spread throughout the villages of Loyok in this area producing black terracotta and basketry. The nearby town of Kotaraja is the village that has a long tradition of producing blacksmith tools
Kuta Beach area
Kuta area is probably the second tourist hotspot on Lombok. It offers beautiful beaches as well and lots of hotel and restaurants. From here you can explore the dream beaches of Mawun, Tanjung Aan and Selong Belanak since they are very close by (see below). Even Kuta Beach itself is worth a look.
starting now kuta being contraction many hotel,4-5 star. kuta beach famous with white sand, clean, sand like paper. just take 20 minutes away from Lombok international airport (LIA) now in kuta beach are circuit MotoGP built in 2020, was held a MotoGP & world superbike in 2022,the event motor will held every year.
Current event 2023 Pertamina Mandalika international Street
March 03-05,2023: Superbike World Championship
August: Asia Road Racing Championship
October 13-15,2023: Grand Prix motorcycle racing (MotoGP) and Asia Talent Cup championship
Mawun Beach
Depending on the weekday and the time of the day, this beach with its soft white sand and turquoise water is still mostly deserted. Sometimes the waves are heavier over here. The beach is secluded and located west of Kuta in an almost enclosed bay, which you can easily reach with your scooter as well.
Selong Belanak beach

Rarely saw such a wide and shallow beach like Selong Belanak somewhere else. You can perfectly surf or swim at this long beach.we strongly recommend taking a look at the near viewpoint overlooking the beach and the bay. It's located a bit north of Selong Belanak Beach. It's still an insiders, tip and you shouldn't miss it when you visit selong blanak.
Tanjung aan beach
Turquoise sea and white sand, the way many traveler love to visit, a large beach, with amazing view, drive to east part of kuta area. Even here you can climb a rock to enjoy a breathtaking view over the two bays and beaches of Tanjung Aan
Seger beach.
Quite beach, white sand, even you can swim or play on the sand beach. Located before Tanjung aan beach, you should turn right. for the time being, some hotel construction, like Pullman hotel. but the beach is clean & quite every year often held festival bau nyale ( legend princess )
Pink Beach east Lombok
It's not really an insiders' tip anymore, but still worth a visit The drive is quite difficult since in my opinion the streets on the Ekas Peninsula (where the Pink Beach is located) cannot be called streets anymore. At least they are being improved bit by bit every year.
If you actually make it there, you will be rewarded with a desolate quiet beach. It is called after its pink sand that consists out of coral. The view from the near viewpoint is marvelous as well and the also worth seeing cliffs of Tanjung Ringgit are situated close by.
Others way to reach Pink beach you can take local boat from Tanjung Luar, take around 40 minutes, view spectacular, you will make stop in small island pulau pasir (sand island ) on the the way back,take boat from Tanjung Luar, you will snorkeling longer, more enjoyable.
Mosques and Hindu temple
Lombok and the rest of Indonesia are mainly population is  Moslim. That is why you can see and especially hear mosques everywhere. If you book your Hotel or accommodation in advance, you should inform yourself if it's closely located to a mosque. Especially around Ramadhan  it could become very noisy. Temple Hindu in Lombok mostly you will see around Mataram and Cakranegara, a big Temple in Lombok some built by Kingdom from Bali, was war 1400 century
Waterfalls sendang Gila ,Tiu Kelep, benang stokel kelambu
Lombok got numerous waterfalls, mostly in the northern part of the island. Among others, there would be, Tiu Teja, Tiu Kelep or Sendang Gile. In the center of Lombok you will find a few decent ones as well, for example the Benang Kelambu, Benang Stokel or  jeruk manis waterfall near Tetebatu. There is no fresher water than this! Drink it, swim or just let the ice cold water hail down your back  superb. visit of the Tiu Kelep and Sendang Gile waterfalls are great to combine, drive to one direction water fall you will take one day.
 Sasak culture
The Sasak are the indigenous people of this island, which today make about 85% of the total population of Lombok. Their culture is fascinating and as a visitor you definitely need to experience it. Their food known for its spiciness, their handicraft, their music and dances, the typical Sasak houses or a Sasak wedding with (extreme loud) street parade with "Gendang Beleq" musicians you need to experience.
There are plenty wedding parade on Lombok, especially on the weekends. By the way, many of the Lombok natives still speak the Sasak language, especially the older. But everyone speaks and understands the official language Bahasa Indonesia. English only helps in tourist spots, which makes a guide tour a great option to get to know the Sasak culture.
Traditional markets
The market are typical Asian with fresh veggies, spices, fish and so much more each village has a local market, busy local market especially in the morning. Every now and then locals look in astonishment at a "Bule" (westerner) since they don't come often over here.
There is no cheaper or fresher place to do food shopping even though as a "Bule" you should consider paying more than a local. or You should bargain thing you take, It is of advantage to speak a little Indonesian, when possible. For stuff like clothes, jewelry or other souvenirs you should visit the Cakranegara Market (Pasar Cakra )
Mataram, Ampenan, Cakranegara
With  420.000 inhabitants, Mataram is the capital of Lombok and the province Nusa Tenggara Barat. Close by you find places like Ampenan where you can still find some old Dutch colonial style buildings. In the district Cakranegara  are a few lovely Balinese temples and the Mataram Mall with its numerous shops, supermarkets, bars and restaurants as well as fast food chains on different levels.
Lombok Epicentrum mall at the main street Sriwijaya & Mataram mall in Jalan pejangik,  Mataram. Meru Temple :a hindu temple built by kingdom anak agung made karang 1719. located jalan anak agung gde ngurah cakranegara kingdom from bali karang asem.
Senaru Village
The oldest traditional village in Lombok in north Lombok, the way to trek mount rinjani. It's the first village of Sasak tribe on the island. The village is pretty quiet. And all the houses look the same design, in which they inherited it from their ancestors. There is no closed bedroom in the house. All the bedrooms" are open without doors or walls. All houses have thatched roofs and the walls are made of Bamboo. It's quite pleasant and relaxing to just walk around the village, smell the dirt and the aroma of people cooking their local dishes from the house.
Sembalun
Located in the eastern part of slope mount rinjani, you will drive from the capital for around 3 hours, you will find beautiful landscape, some plantations like union, strawberry, garlic etc. View in sembalun you see close mount rinjani & are good place to do camping & soft hiking name Pergasingan hill, others you could see Bukit selong & places for photo selfie
THINGS TO KNOW BEFORE VISITING LOMBOK
What is the best time to visit Lombok? The best time to visit Lombok is during the dry season from April to October, when the weather is sunny and dry, making it ideal for outdoor activities and beach hopping.
What is the currency used in Lombok?The currency used in Lombok is the Indonesian Rupiah (IDR). It's recommended to bring cash, as some places may not accept credit cards.
What language is spoken in Lombok? The official language spoken in Lombok is Bahasa (Indonesian), but many locals also speak Sasak, the local dialect. English is also widely spoken in tourist areas.
What are the popular tourist attractions in Lombok?The popular tourist attractions in Lombok include Mount Rinjani, Gili Islands, Tiu Kelep waterfall, and Kuta Beach.
Is it safe to travel to Lombok?Yes, Lombok is generally considered a safe destination for tourists. However, it's always important to take necessary precautions, such as not leaving valuables unattended and being aware of your surroundings at all times. It's also recommended to check the latest travel advisories before planning your trip.