Mount Rinjani Trekking 2 Days and 1-night Crater Rim Start Senaru Village
Mount Rinjani trekking crater Rim 2 days, we made for those who want to see the amazing view of Lake Segara Anak with a height of 2,642 meters above sea level.
You will find beautiful views of the three Gili's, the island of Lombok from a distance, the Segara Anak crater rim, and the summit of Mount Rinjani. Program starting from the village of Senaru and returning the same route to Senaru village too.
This trekking program can be done between the ages of 17 and 50. and we Do not recommend or accept reservations if participants suffer from asthma or are allergic to cold weather.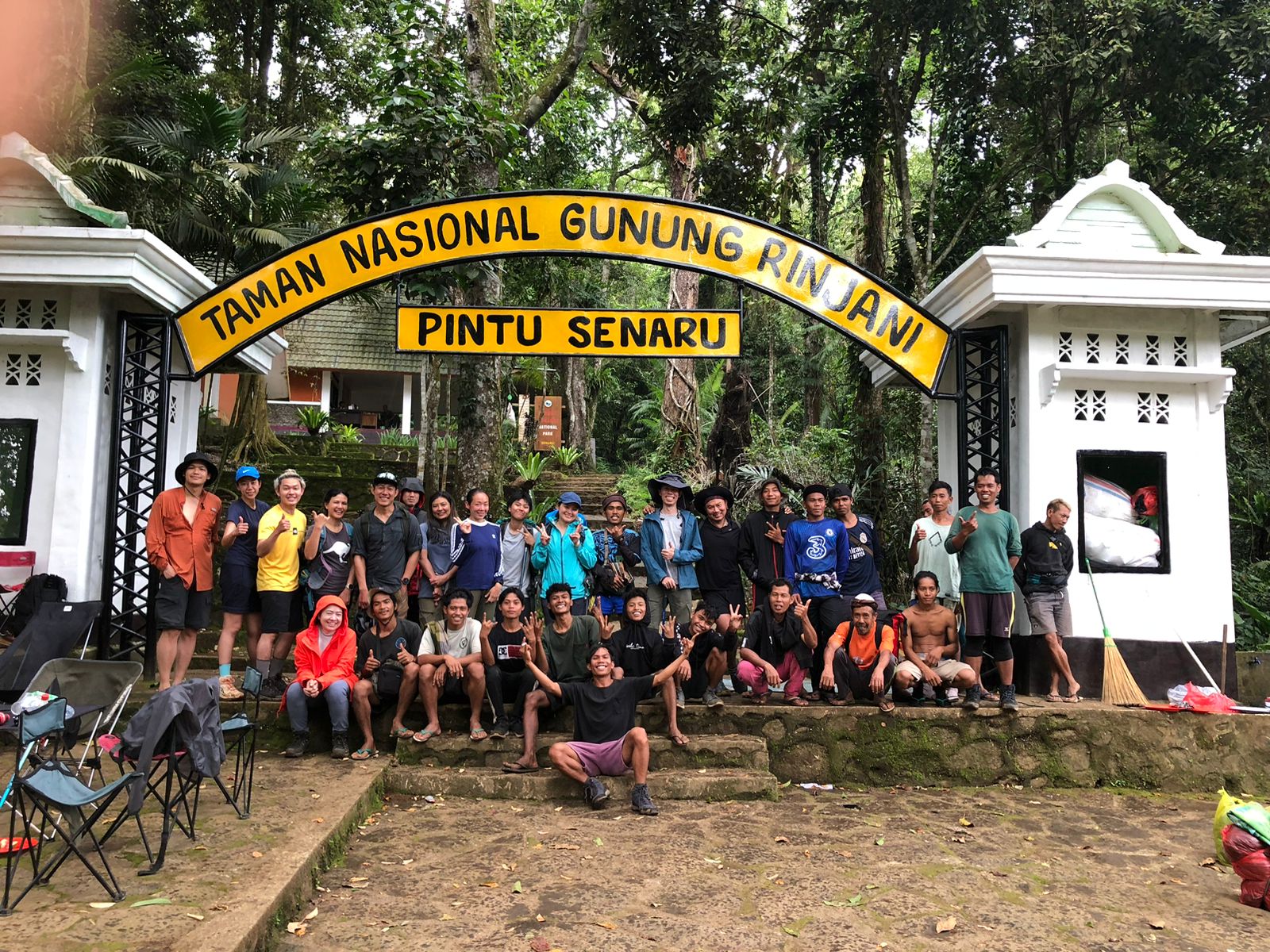 Trekking Mount Rinjani Crater Rim Overview:
Shadow trails pass the grand tropical forest.
Enjoy the jungle atmosphere with bird sounds and wild animals (black monkey, brown monkey, etc.).
Spectacular view of Gili's, Senaru village, and green tropical forest from Cemara Lima
Beautiful view of Lake Segara Anak from Senaru crater Rim Senaru
Amazing view from crater RIM Senaru over Segara Anak (sunset and Sunrise )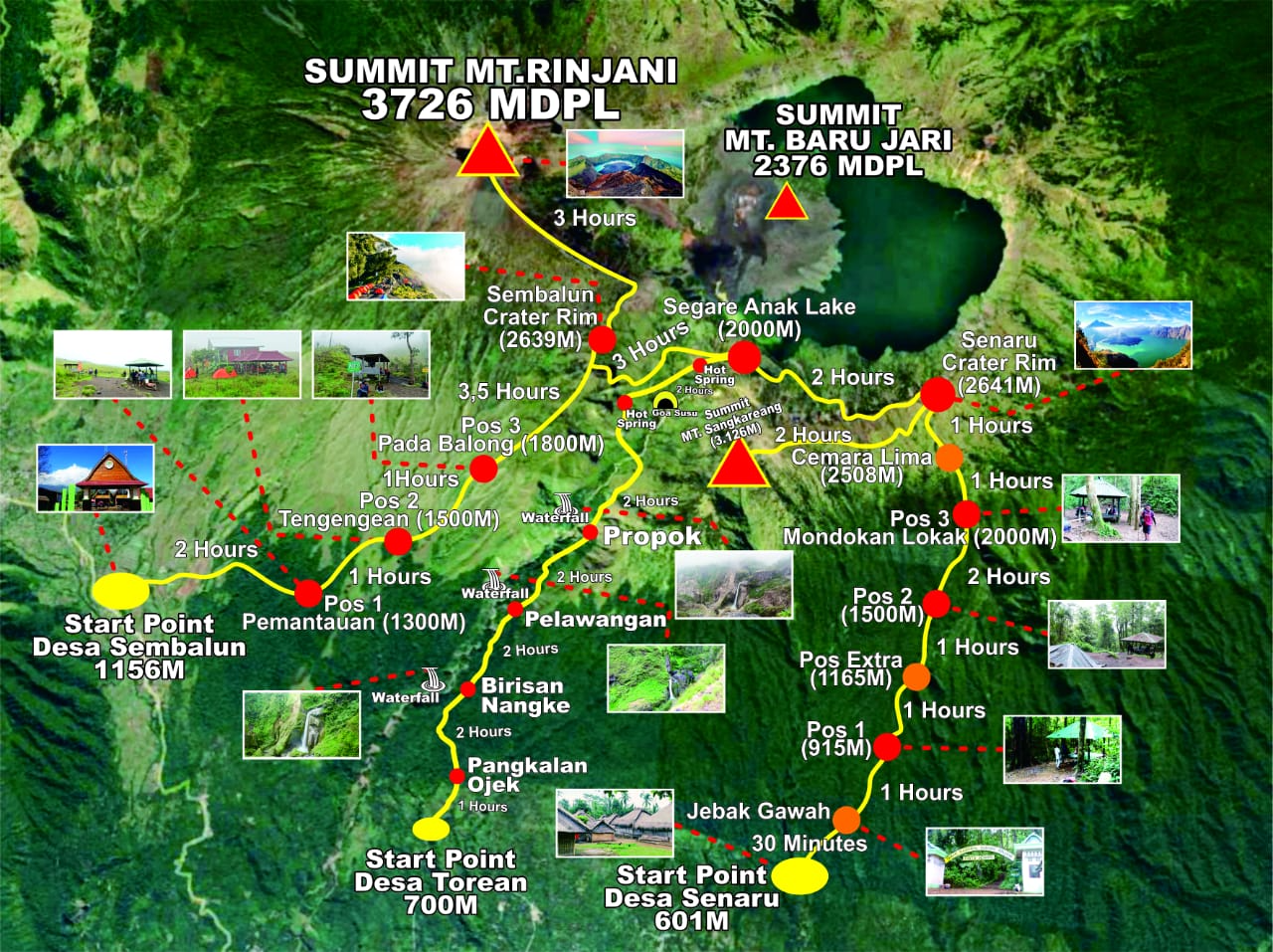 Itinerary trekking Rinjani  Crater Rim 2 days:
Day 01. Breakfast, Lunch, and dinner included
Early morning around  at 05.00 am transfer Senaru village
Registration at the RTC ( Rinjani Trekking Centre Senaru 601m )
Prepare trekking at 07.30 – 08.00 am
Walking in the open views 30 minutes with the green plant of the coffee tree, Bamboo, etc.
Pass walk 30 minutes more to the gate of the tropical rain forest, 15 minutes short break
Continue walk trough jungle where we will shadowing by the sun 3 hours to post 2 ( MONTONG SATAS 1.500m ), seen black Monkey and big trees on the trail.
Break at POS 2, get fresh fruits and soft drink by our Guide and porter
Continue to post 3 ( MONDOKAN LOLAK 2.000m ) pass tropical forest, local strawberry ( June, July, August ), 3 hours walk, lunch will prepare at  post 3 ( Fresh fruit, snack/biscuits, and lunch )
After 1 hour 30 minutes take a rest, continue to crater Rim of Senaru ( 2.641 m ) one-hour walk
Camping and overnight at crater RIM Senaru, enjoy an amazing sunset over 3 Gili's and Mount Agung Bali
Overview trail at day 01 from Senaru village to crater rim Senaru:
Distance: 9,2 km
Walk duration : 5-6 hours
Difficulty: Moderate
Highest point: 2.641 ml (Senaru crater Rim)
Height gain: -2040 m
Day 02: Breakfast, Lunch at the mountain.
Breakfast and enjoy sunrise by the beautiful scenery of Segara Anak Lake
Walk down to Senaru village for 4-5 hours
Will arrive at Senaru village approx 13.00 PM
Prepare your luggage, then transfer to your next destination ( Senggigi, Mataram or Bangsal harbor )
Overview trail at day-2 from crater Rim Senaru to Senaru village
Distance: 9,2 km
Duration: 4-5 hours
Difficulty walk down: moderate
Highest point: 2.641 ml (Senaru crater Rim)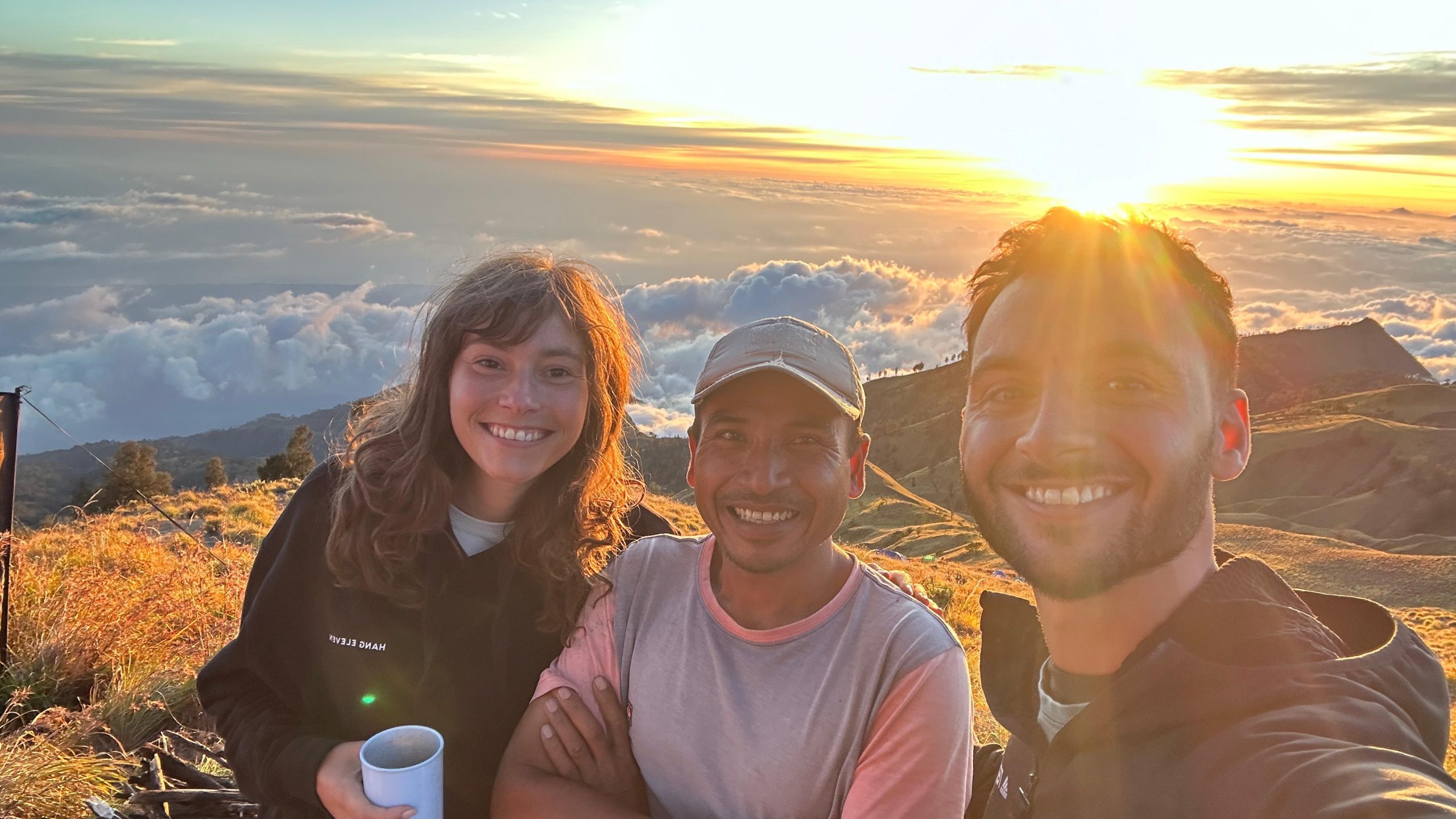 Our Price US$ per person
US$250 Per person, minimum of  2 persons to book this trekking
US$210 Per person, minimum of 3-4 persons to book this trekking
US$200 Per person, minimum and up to 5 persons to book this trekking
Inclusive:

Private return transfer Hotel to trek point and back to Hotel
Trekking equipment's, Tent, Sleeping bag, Sleeping mat, Cooking gears, lamp.
National park entrance fee and Village Donation
Licensed and experience mountain guide and local porters
Fresh fruits Pineapples, banana, oranges, apple, and Snack.
Full board meal Breakfast, Lunch, Dinner during trek program,
Mineral water 3 to 4 litters bottle per day
Exclusive :

Personal expenses
Insurance
Tip Guide and Driver
alcohol

Extra porter to carry your own luggage
Term of Payment:
Payment in advance 30% as the deposit of your reservation via PayPal online payment
The balance to be settle with cash on arrival
PayPal account:

https://www.paypal.com/cgi-bin/webscr?cmd=_s-xclick&hosted_button_id=SG8ATGPZBTCFN

We are not responsible for any taxes charge by the bank during the money transfer process.
Cancellation policy:
Full refund for cancellation noticed 15 days before arrival
Cancellation within 7 days of the trip is charged 50% of the package price
Last minute cancellation (one day or on the day of the trip) is full payment charge
Important Notes:
Minimum participant 2 persons
This trekking program is suitable for beginner trekkers.
Required a good level of fitness and strong walks.
Trekking is not allowed for children under 5 years old.
People with mountain sickness or height phobias are not allowed to join this trek.
Trekking can be done any day except when weather conditions do not permit it.
Confirmed reservation at least 3 days before by email or What's App.
Items that must be Prepared to Trek mount Rinjani Male or female 
Gym shorts (for walking)
Long leggings (for sleeping)
Long pair of the warm pant ( 1 )
Pair of underwear for each day ( 1 )
Pair of socks for each day ( 1 )
Short-sleeved shirt ( 1 )
Long-sleeved shirts/ hood less (depending on how cold you get 1-2)
Rain jacket and/or 1 poncho (additionally for heavy rain)
Trekking poles ( 2 )
Head torch or hand torch ( 1 )
Pair of flip flops (to wear at camp)
Toothbrush & toothpaste
Facial cream
Emergency toilet paper (essential)
Wet wipes (there is no shower on the Hill, so this will make you feel clean)
Hairband (women)
Sports bra ( 1 )
Sunscreen
Sun hat
First aid kit or medication
Phone /camera or smart Phone
Garbage plastic
Additional information about Mount Rinjani Trekking
Trekking to Mount Rinjani is open from early April to the first week in January. This is in accordance with the Indonesian seasons, where April to October is the summer season and October to early January is the moderate rainy season. The peak of the rainy season usually occurs between January and March, when the trekking activities on Mount Rinjani are usually closed.
April and May are the quietest months. You will find the most beautiful scenery, as all the grasslands and trees are still green. You should be more careful during the rainy season, which starts in October, especially for the hiking route from the Sembalun crater rim to the lake. In some places, from the lake to Senaru village, the hiking trail is slippery, and in some places, there are frequent landslides.
January, February, and March are the rainy seasons, and trekking Mount Rinjani is quite dangerous as it is slippery. April, May, and June are the quietest months of the year for trekking and actually have some of the best views due to the green landscape, while July to October is the high season for trekking Mount Rinjani, and you will get some barren weeds.
How to book Mount Rinjani Trekking Crater Rim:
Send us an inquiry to our booking form, email us to info@bookinglombokholidays.com or What's App at +62 822 3530 5550 Komang Rastu (Owner for speedy reply)
Once your booking is confirmed, the deposit is required to secure your booking.
Send us a copy passport through what's app
As soon as your reservation is confirmed, we will send the voucher to your email or Whats App.
Share your arrival schedule at Lombok airport or harbor on Lombok for pick-up service.
Contact US FOR bookings OR information
Mount Rinjani Trekking Crater Rim